Whether you buy crabs online or you've caught them yourself, figuring out how to cook your blue crabs can be a challenge. In fact, even some seasoned chefs can be intimidated by blue crab recipes at first glance. However, we have good news! Making that famous family recipe for blue crabs isn't nearly as hard as you'd imagine. We'll walk you through the whole process, from preparation to cooking to putting the best blue crab recipes right on the table. Read on to learn how to craft crab dishes like never before…or if your mouth's already watering, order crabs online now from Harbour House Crabs, and we'll ship them fresh to your door!
Preparing Blue Crabs
Once you receive your crabs, follow the storage instructions in the packaging if you don't intend to eat them right away. When you're ready to cook them and extract the tasty meat, use this simple guide to prepare your blue crab meat for your recipe!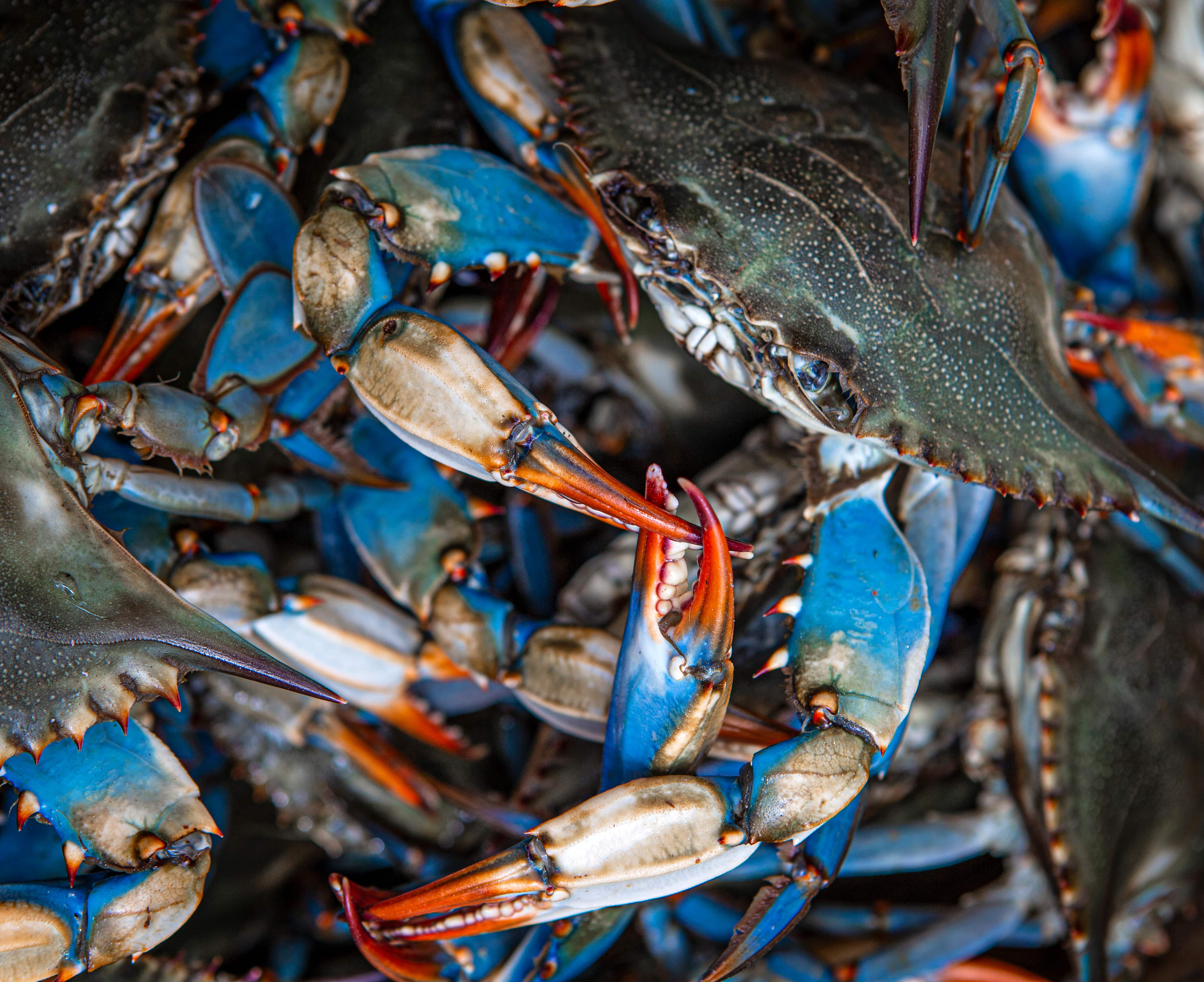 What's the Best Way to Cook a Blue Crab Meal?
Blue crabs are typically either boiled or steamed. There's no wrong way to boil or steam your crabs, but many people have strong opinions about how their crabs are cooked! Experiment with both possibilities and see how you feel. You can also deep-fry soft-shell crabs for a totally different tasting experience!
Blue Crab Claw Simple Recipes
Cooking blue crab is a snap with these blue crab claw simple recipes. And Maryland blue crabs are some of the tastiest crustaceans out there!
We highly recommend these Maryland blue claw crab meat recipes:
Maryland Blue Crab Claw Meat Recipes
1) Cream of Crab Soup
Created by Saveur.com test kitchen expert Farideh Sadeghin, this hearty Maryland blue claw crab recipe will tantalize your taste buds.
Ingredients:
1 lb blue crab claw meat or jumbo crabmeat
4 C half & half
1 C chopped yellow onion
1⁄3 C flour
4 tbsp unsalted butter
1⁄2 tbsp Old Bay
Kosher salt and ground black pepper, to taste
Dry cooking sherry
Melt butter in a 4-quart saucepan over medium heat. Add onion and cook until softened (around 5 minutes). Add flour and Old Bay, then continue cooking for 3 minutes. Whisk in half and half, stirring constantly, then bring to a boil, cut down heat to medium-low, and let simmer. Stir occasionally until thick (about 5 minutes). Add in crab meat. Cook for 1-2 more minutes until soup is heated through. Season with kosher salt, ground pepper, and a drizzle of sherry.
2) Maryland Crab Salad
Touted as one of the simplest yet tastiest Maryland blue claw crab recipes online, you don't want to miss out on this dish created by Food.com contributor Andi Longmeadow Farm!
Ingredients:
1 lb fresh blue crab meat
1 tbsp Italian dressing
1 tsp Old Bay, to taste
1/2 C mayonnaise
1/4 C diced red pepper
1/4 C diced celery
1 diced small spring onion
1/4 tsp celery seed
1-2 dashes dry mustard or Dijon
1-2 dashes garlic powder
1 dash hot sauce
Marinate crab in Italian dressing for one hour. In the meantime, combine the rest of the ingredients in a large bowl. Break apart the crab and remove the meat (be careful to remove all extra shell pieces). Add meat to the bowl and combine all ingredients thoroughly with a spatula, then cool in the fridge for 1-2 hours. It can be served on its own, on crackers, or over a bed of lettuce.
Blue Claw Crab Dip Recipes
Sometimes, the best way to cook a blue crab meal is to not cook a "meal" at all! Eat crabs as a tasty snack or wow your guests with these blue claw crab dip recipes.
1) Crosby's Blue Crab Dip
This recipe comes from the award-winning South Carolina seafood restaurant "Crosby's Fish & Shrimp Co."
Ingredients:
1 lb blue crab claw meat
Juice from 1/2 of a lemon
1/2 C mayonnaise
1/4 C sour cream
1/4 C creamy French dressing
2 C sharp cheddar cheese, grated
2 tbsp raw horseradish
2 tsp Old Bay
6-8 dashes hot sauce, to taste
4-6 dashes Worcestershire sauce, to taste
Combine everything except the crab meat and cheese into a large bowl and stir well. Mix in cheese and crab meat, then cover and place in the refrigerator. Serve with crackers.
2) Joe's Crab Shack Copycat Dip
Modeled after the famous blue crab dip served at seafood chain Joe's Crab Shack, this recipe contributed by Food.com member "startnover" is simple and quick.
Ingredients:
½ lb blue crab claw meat, drained
8 oz cream cheese, softened
2 tbsp parmesan, grated
2 tbsp red bell pepper, diced
2 tbsp green onions, diced
1 tbsp apple juice or white cooking wine
1 tbsp Roma tomato, diced
3 tsp heavy whipping cream
1 tsp liquid crab boil seasoning
2 dashes ground mustard
2 dashes hot sauce
Combine all ingredients and spread evenly into a baking dish. Microwave for 2 minutes, then transfer to the oven and broil on high until the top is slightly browned. Garnish with additional Parmesan cheese. Serve with tortilla chips or toasted bread.
How Long to Cook Blue Crab
If you're preparing blue crabs for a blue crab recipe, you may wonder how long to cook them for. Cooking blue crabs isn't an exact science, but there are some general guidelines to keep in mind.
Boiling Blue Crabs
Twelve blue crabs usually take around 20 minutes to boil. Be sure to only put a few inches of water in the stockpot and don't overcrowd the space. You know boiled crabs are done when their shells turn bright orange and no blue remains.
Steaming Blue Crabs
Twelve blue crabs usually take between 20 and 30 minutes to steam properly. Similarly to boiling, ensure there is no blue left on the crab shells before removing them from the water. Steaming is often the preferred method for Maryland blue crab claw meat recipes and more!
Time to Start Shopping!
Have you chosen your favorite recipe for blue crab? Now that you've got some of the best blue claw crab recipes in your claws, it's time to check out what we have to offer. Here's just a sneak peek of what we sell at Harbour House Crabs, all shipped fresh directly to your doorstep and perfect for garlic blue claw crab recipes and more!
Need More Blue Crab Recipe Ideas?
Did you enjoy our best blue crab recipe ideas? Looking for more of the best blue claw crab recipes to try? Visit our blog for more recipes and other crabby information, or get your very own iLoveCrabs Cookbook & Gift Set here. This special cookbook is chock-full of mouthwatering crab soup, special crab dip, and garlic blue claw crab recipes, and so much more. Add it to your cart next time you buy crabs online…you won't regret it!