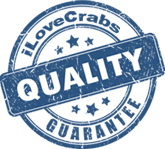 Thank You for your interest in Harbour House Crabs. We take great pride in the quality of our seafood and take every measure possible to ensure that your order arrives in the same condition as when we packaged it. Delivering live and steamed Maryland blue crabs and other fresh quality seafood throughout the country is very challenging. We are always trying to perfect the sourcing, processing and packaging of all our seafood. We strive to make sure your experience with Harbour House Crabs is the best it can be and that our seafood is the highest of quality available. We rely 100% on FedEx to make sure your order is delivered as scheduled. For over a decade FedEx has proven to be the best perishable shipper and has delivered over 99% of all our packages on time.
With all that being said, there are some things that may cause a package to arrive late or after the scheduled time. We do realize that when an issue occurs it can be very frustrating. One thing to keep in mind is that delays happen on less than 1% of our orders. We will do whatever we can to help resolve the issue at hand and will handle every issue professionally. Below is a list of how we handle these issue if they may arise.
Package arrives after the scheduled day due to a weather issue or an issue out of FedEx's control – Each of our orders is packed with enough gel pack ice to ensure an extra day of shipping if needed. In the case that weather has caused FedEx a delay greater than one day in your shipment and the contents of your order are spoiled, we will issue a store credit for the cost of the products in your order. Because FedEx waives all guarantees when weather is the cause of the delay, we are unable to reimburse the shipping cost.
Package arrives on time but there is an issue with the order - Each and every item we sell is carefully inspected before it is shipped. If the merchandise is defective or damaged upon receipt please contact us immediately after your package arrives. All claims must be made the same day of the receipt of order. We are in the business of making sure every customer is satisfied with their order. If there is an issue we will always try to resolve the issue in a timely matter. In doing so we need to obtain as much information as possible to try and determine what was the root cause of the problem. Depending on the issue we may ask you to reship the package back to us for inspection. Shipping charges will not be refunded.
*** Hard Shell Crabs – We strive to make sure every customer is completely satisfied with their order and we back all of our products with this guarantee. This can be a challenge because the crabs we catch change from day to day. Some days the crabs have longer points and smaller bodies…..some days they have small points and big bodies…..some days the crabs have smaller claws or just one claw or no claws at all……some days the crabs are lighter and not quite full and some days the crabs are perfect. We always strive to sell the perfect crab, but in most cases we can get close but not quite perfect. Availability can sometimes cause a delay in shipment. We have quite a few waterman crabbing different bodies of water to try and maintain a consistent supply of quality crabs. Wind and Cold weather (winter months especially) can sometimes prevent our watermen from going out crabbing. Bottom line is…..if we can't catch them we can't ship them. If we cannot fill the order we will call and/or email you to determine a better arrival date.
Package arrives after the scheduled day due to an error by FedEx or HHC - Each of our orders is packed with enough gel pack ice to ensure an extra day of shipping if needed. In the case there is a delay greater than one day in your shipment and the contents are spoiled we will reship another order.
Package arrives later than the estimated time on the scheduled day - Estimated shipping arrival times may vary according to zip code and destination. FedEx always strives to meet to their estimated daily delivery times. However, situations or delays can occur where a package may arrive later in the day. If the package is date/time sensitive or for a special occasion, we highly recommend scheduling your order to arrive a day sooner.
FedEx Ground service is a great economical shipping solution, however, ground deliveries may be delayed in transit. We strive to pack each shipment to be able to last additional days in transit. We do highly recommend using FedEx Air service for date sensitive orders. FedEx ground service is a great economical service but does not have the same guarantees as FedEx Air services.
Live Crab Guarantee - All live crabs must be shipped using priority overnight shipping and the crabs should be cooked immediately after receiving them. Our policy with live crabs is that we guarantee to use only the liveliest crab available. All live crab orders are shipped with approximately 10% extra crabs to offset any dead loss. Store credit will be issued for product loss in excess of 15% of original order. Shipping is nonrefundable. In the event live crabs are not lively enough to be shipped, Customer Service will notify the customer to arrange either a different arrival date or have the crabs shipped steamed.
Do to the perishability of seafood we are unable to accept returns unless we ask for a package to be returned. In the case a return is required, we are unable to offer return freight service. We always strive to completely satisfy each and every customer and are always requesting feedback on our service so we constantly improve.
Thank Your for your business,
Harbour House Crabs Staff
Have a Question?
Send us an email and we will get back with you ASAP
Please Note: if you have any packaging or product concerns please contact us immediately on the day of delivery.
Contact us