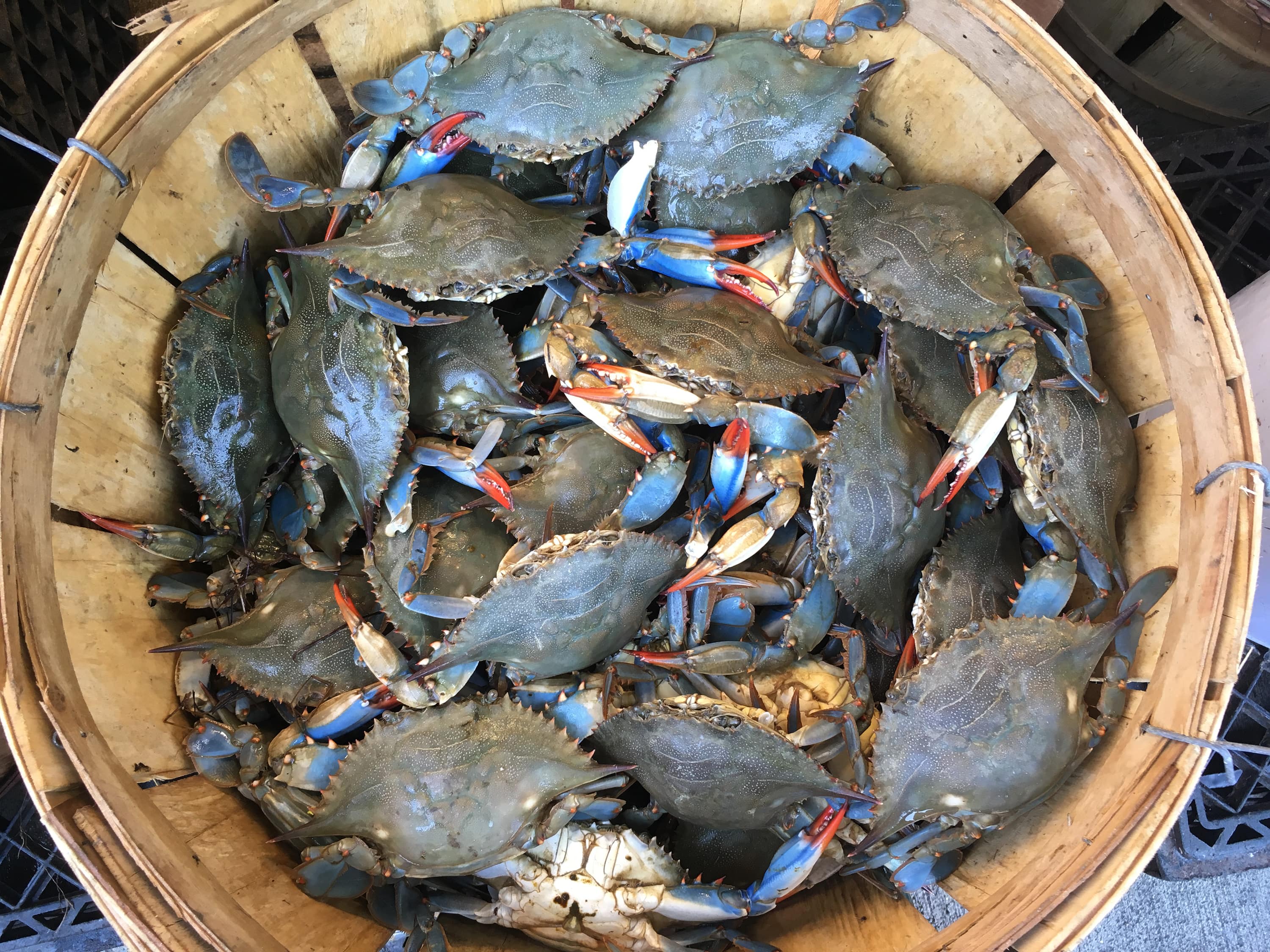 Harbour House Crabs is your source for large, fresh, and delicious Maryland blue crabs for sale. Our blue crabs are steamed to order and shipped the same day anywhere in the USA. Once you have tried the tender and succulent meat of these carefully selected crabs, you will be coming back to order Maryland steamed blue crabs again and again! We stand behind the quality of our crabs and guarantee that you will enjoy their fresh and delicious flavor.
Enjoy Fresh Maryland Blue Crabs For Sale
The male blue crab measures 6 - 6 1/2 inches in length and is available at Harbour House Crabs by the dozen, bushel, or half-bushel. We carefully package your order and ship it out within the same day to ensure its freshness. Once the best Maryland blue crabs are shipped to your door, you'll want to steam them as soon as possible for the tastiest results.
Steaming can be done with a steamer or double broiler and only takes 5 to 10 minutes. When your Maryland steamed blue crabs turn orange, they are cooked through and can be removed from the pot and served with your favorite garnishes and side dishes. You can even use the meat in your favorite crab recipes.
Where to Order Maryland Steamed Blue Crabs?
Is your mouth watering at the thought of Maryland blue crabs? You don't have to be on the East Coast to enjoy the best crabs in the world. At Harbour House Crabs, we hand-pick the highest-quality crabs and season them to perfection so that you can enjoy the sweet flavor of crab meat, no matter where you live. Order Maryland blue crabs online today, and let the tender meat melt on your tongue tomorrow!
Create a Celebration-Worthy Feast With a Fresh Maryland Blue Crab Delivery
Deciding to make steamed Maryland blue crabs the staple of your feast is easy. The hard part is deciding what you'll pair with the sweet, savory meat. There are so many options to choose from, but some of our favorite side dishes and condiments are:
Lemon Rice Pilaf
Roasted Vegetables
Mashed Potatoes
Mustard With Dill
Lemon, Salt, and Pepper
Hollandaise
Remoulade
Cocktail Sauce
No matter what you decide to pair with your blue crabs shipped from Maryland, you can rest assured that the meal you create will elevate an everyday meal into a feast worthy of a celebration. Even if you're not marking a wedding anniversary, graduation, or birthday, you can make any moment feel special with a fresh Maryland blue crab delivery.
More Than Just Maryland Blue Crabs Shipped to Your Door
Our company prides itself on providing the most succulent crustaceans Maryland has to offer across the nation. By ordering online, you don't have to limit yourself to just Maryland steamed blue crabs. You can expand your horizons and get the key ingredients to an incredible feast. When you order Maryland blue crabs online, consider adding these quality seafood delicacies to your cart as well:
A Decade of Quality Steamed Maryland Blue Crabs
For more than a decade, we have provided customers across the nation with quality blue crabs shipped from Maryland. Whether you are a former Maryland resident that misses the "sweet taste" of blue crabs or trying them for the first time, you will not be disappointed. Our family-owned and operated company is dedicated to delivering fresh and tasty Maryland steamed blue crabs anywhere in the USA. To get the best Maryland blue crabs shipped directly to your door, order online today!